Für die deutschen Freunde -->

---
On the fifth day I wanted to go home. There were no mushrooms to be found, no sound to be heard, not even the wind blew and, this day, I've had three pikes on the hook and I had lost them all.
To Sweden you go only once
~
or you will go there time and time again.
Sweden and mushrooms.
Then the rain set in. After several strong rainfalls the mushrooms sprang up like - well - just like mushrooms.
The beginning of August is the season Karl-Johann, as the friendly Swedes affectionately call the boletus.


Sweden is a land of mushrooms.
The most convenient way is to collect mushrooms during a trip by car. Driving slowly, we got a whole meal together in no time.
Then generously season with onions.



Now it had become considerably more difficult to go home.
We started to experiment.
Since there wasn't anybody apart from ourselves who showed any interests in the mushrooms, we tried to find out whether little mushrooms continued to grow. After a day we went to see our mushroom again and, lo and behold, it hadn't changed! Only a snail was about to temper with it, with our mushroom.
We repeated this experiment a good many times. Thus, we supposed that mushroom very quickly grow up to their final size and then don't grow anymore.
Chantarelles are everywhere standing around.
Even if the weather is dry.
Together with scrambled eggs they make up
a yummy breakfast.







---
---
Sweden and berries.

The Swedish woods and forests are blessed with raspberries and blueberries and, depending on the season, also with woodstrawberries and lingonberries or cranberries.
They are very tasty with yoghurt or ice-cream.






But apparently, any jar is too small. You will always have to leave a whole forest full of berries behind.


---
---
Sweden and fishing.
We purchased a fishing licence at a petrol station. For one month, we paid approx. 25 Euros.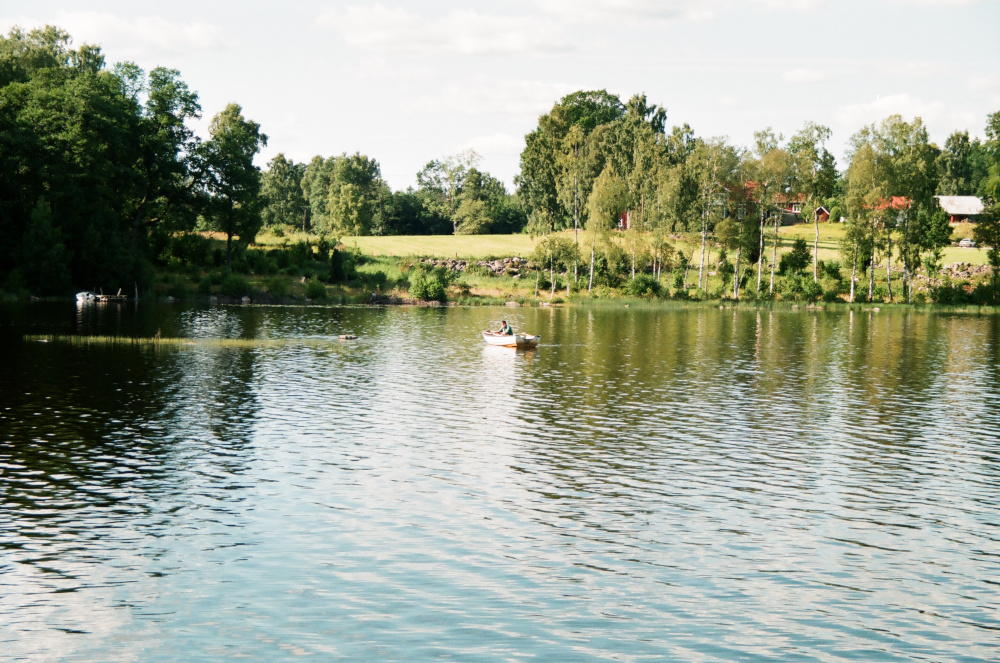 The view onto the water unwinds your mind.


Fishing is common throughout Sweden. There are large lakes one of which is Lake Bolmen. With its 365 isles - one for each day - it offers plenty of lakeshore.

The most common catch is perches, the greediest of all species known to me.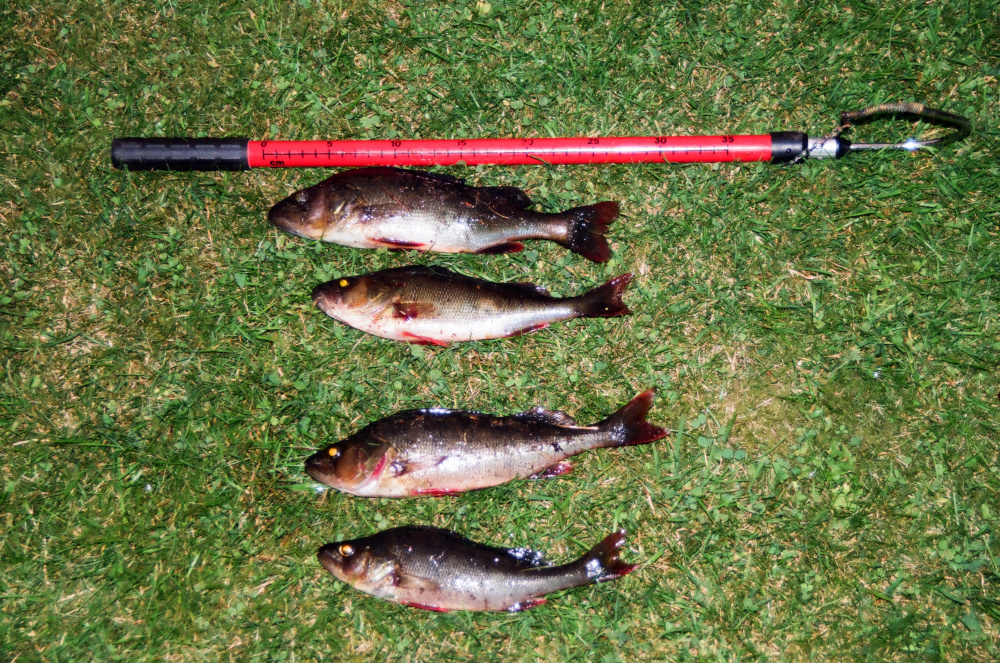 It may happen that four splendid specimen jump onto the hook in quick succession.
Perches bite on everything that moves. Earthworms have proved most successful. But it also works with dough or a small leave, and they even bite onto the bare hook if only it is twinkling enough. We caught pikes up to 30 cm long.

Roaches are well suited as bait fish. They bite on dough or worm. The biggest specimen on our hook was 27 cm long.

If a Swede says that he goes fishing, then he wants to catch a pike. In Sweden, it is allowed to use living bait fish. When catching our two biggest pikes (65 and 72 cm) we had been successful with this method.



The pike is equipped with razor sharp big teeth. Its whole mouth is full of them.
That's why it's clever to not let it bite you.




---
---
Sweden and the sound of silence.
If there is one thing that Sweden possesses even more plentifully of than forests, lakes and mushrooms, then it is the beneficial silence that surrounds you. After a few days you begin to perceive a multitude of sounds, the forest turns to a primeval forest, in short, your senses start to work properly again.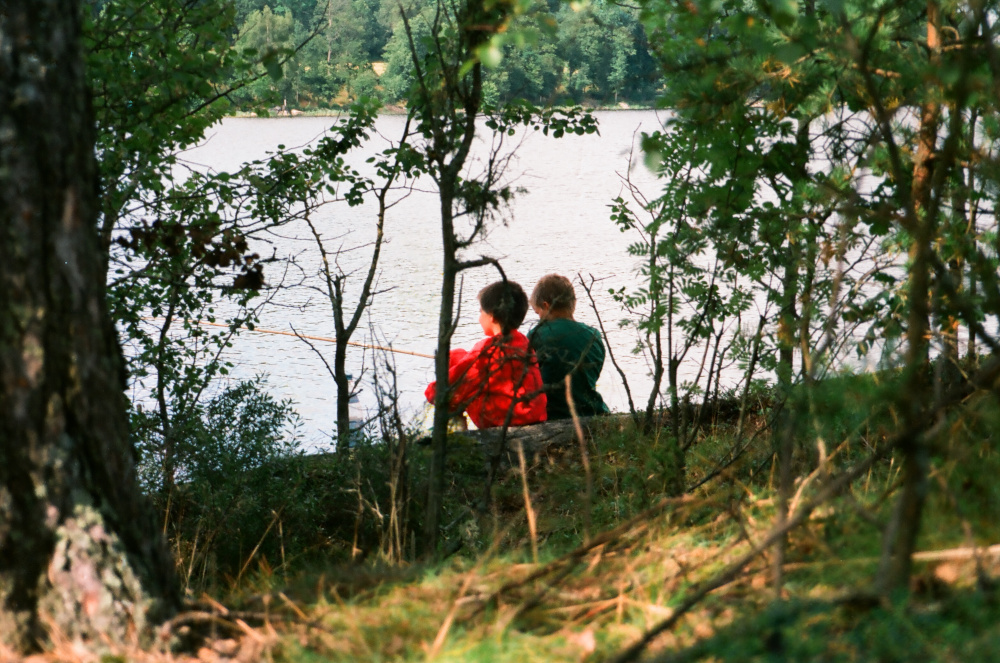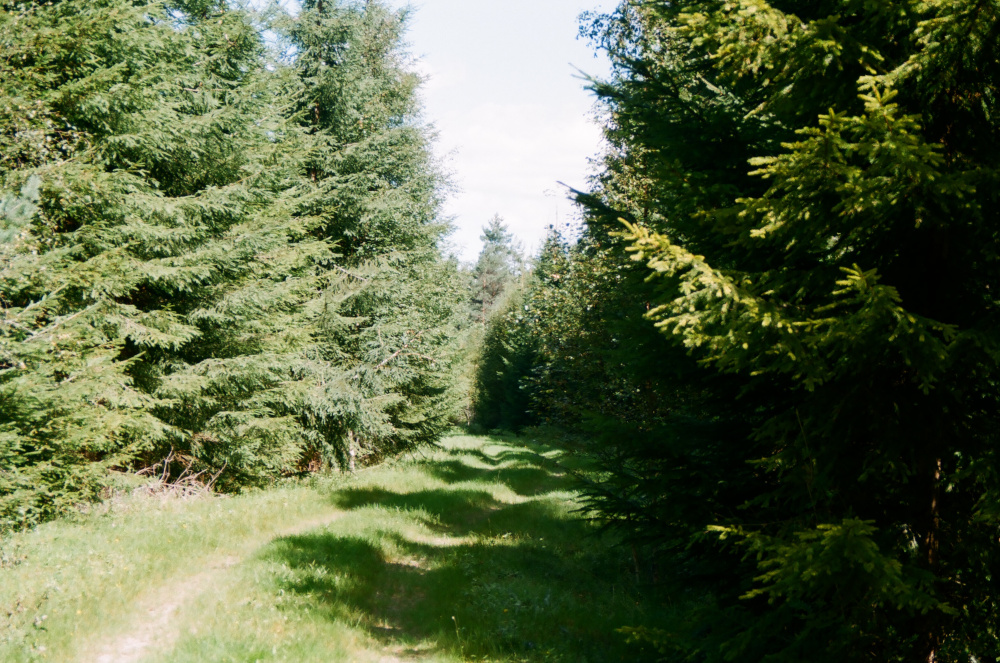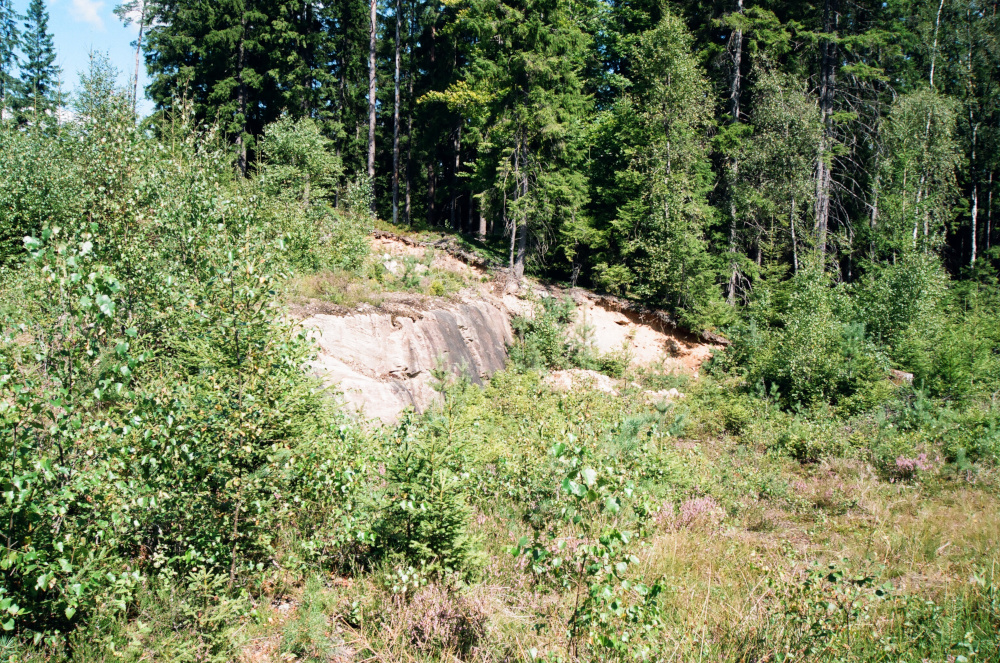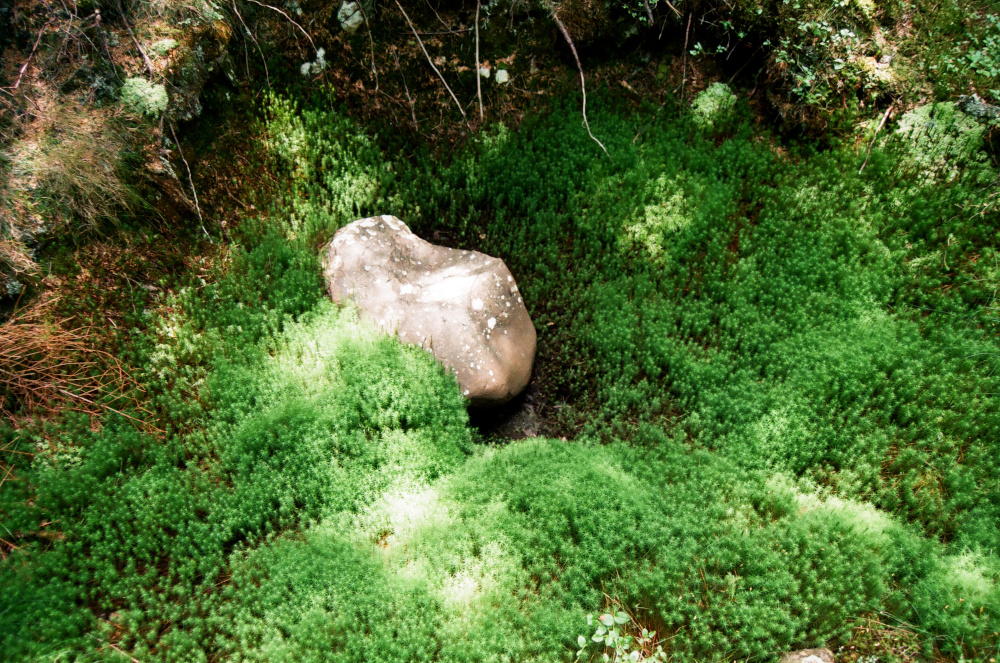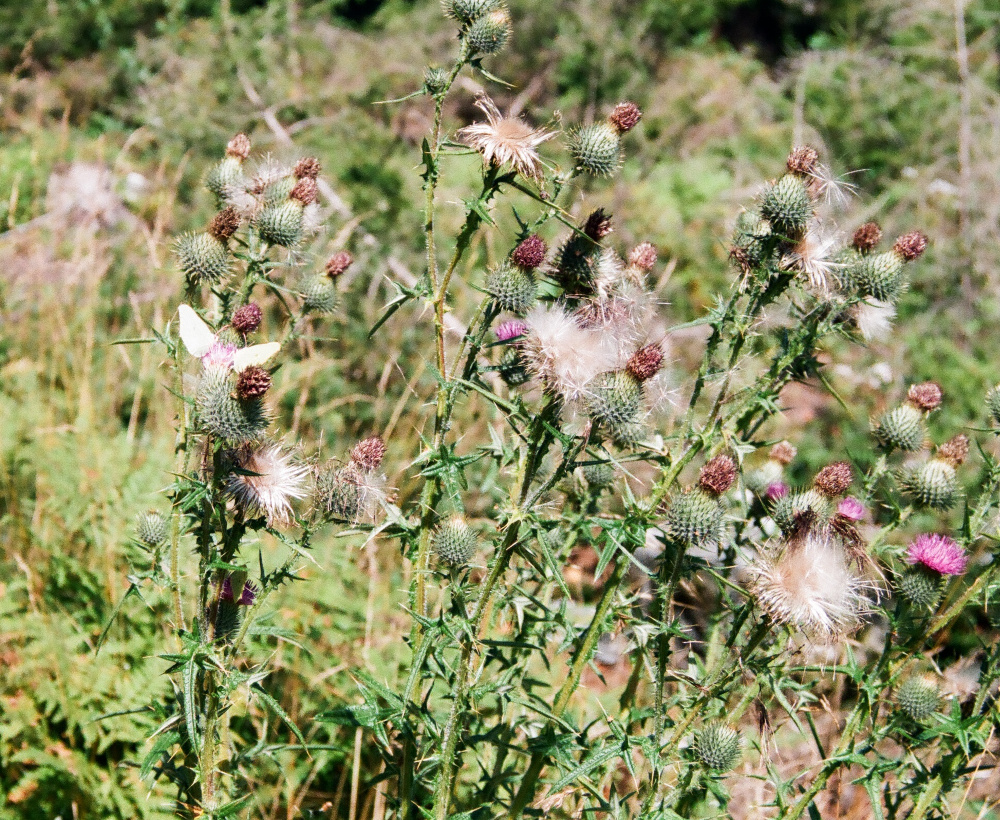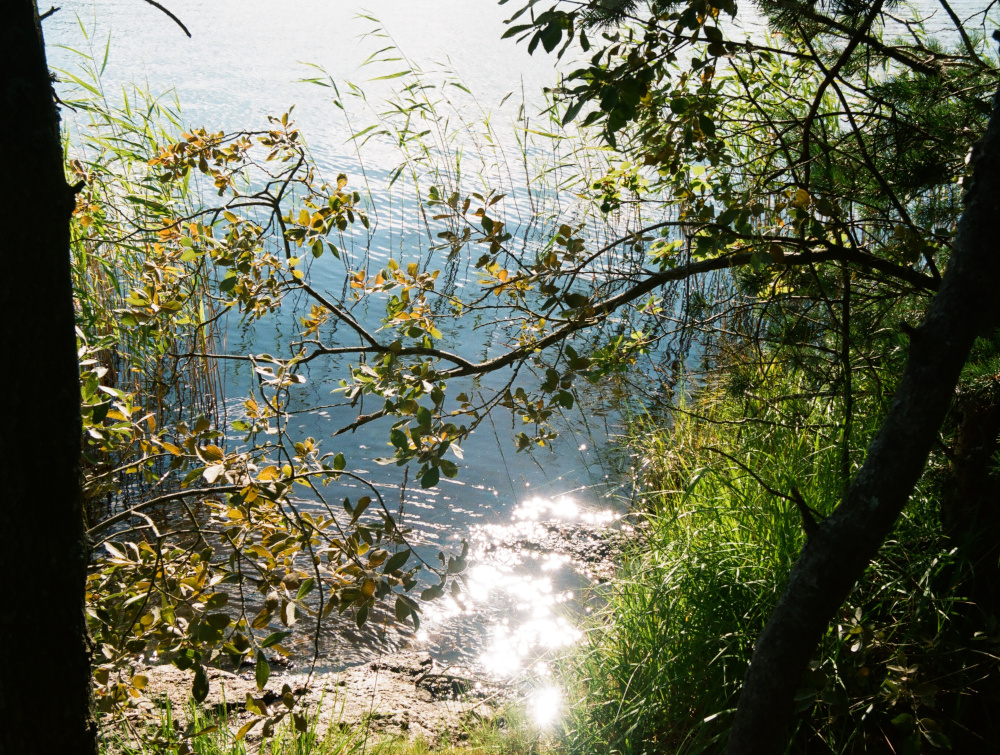 ---
---
Sweden and the Allemansrätt.
"Do not disturb - do not destroy,"

that is the simple rule of the Swedish Allemansrätt, the law encouraging free access to the countryside.



In Sweden everyone has the right:


... to take a walk, a bicycle, go horse riding, or to go skiing on all land not cultivated, and on such land that can not be damaged by your visit, this is provided you do not cause any damage to crops, forest plantations or fences. However, you are not entitled to cross or stay on a private plot without permission. The plot, which is not always hedged or fenced in, is the area closest to a dwelling house.

... to take a walk, a bicycle, go horse riding, or to go skiing on private roads. Motor vehicles may be used if the owner has not forbidden such traffic.

... to pick wild flowers (excluding those protected by law), berries, mushrooms, fallen cones, acorns and beechnuts on land that is not a building site, a garden or a plantation, to bathe or go by boat on most natural watercourses.

... to take water from lakes and springs.

... to put up a tent, or park your caravan, or trailer, for twenty-four hours. For a longer stay you have to have the permission of the owner.

... to make a fire, as long as you do not cause any damage. However, there are restrictions during periods of drought when there is immediate liability for a forest fire. You may use fallen branches and or twigs as fire wood. Never light a fire on bare rocks as they will crack and split, resulting in ugly irreparable scars.

... to bring your dog and let it loose as long as you have full control. Restrictions are listed in local statutes and regulations.



You are prohibited:


... to cause damage to, and/or pollute the land.

... to ride on a motor vehicle on private property, so that damage may be caused, or on a private road, when the owner has forbidden such a state. Restricted areas are also gardens, cultivated sites, or constructions made by the owner.

... to break branches and twigs, to take the birch, bark, leaves, bass, acorns, nuts or resin from growing trees and bushes.

... to pick wild flowers protected by law.

... to park a caravan or trailer in such a place where the land could be damaged.

... to make fire so that the environment could be damaged or endangered.

... to let dogs run freely on private hunting-grounds.
All in all, there is no more expected of us than we would expect of our guests as well.
In practice, the Allemansrätt is functioning quite simply. It is assumed that everybody abides by the rules. Over all the weeks, there wasn't anybody who wanted to see our fishing licence, and many a night we sat around the campfire that we lit in the safe fireplace near the house and roasted sausages.
It is easy to fit in.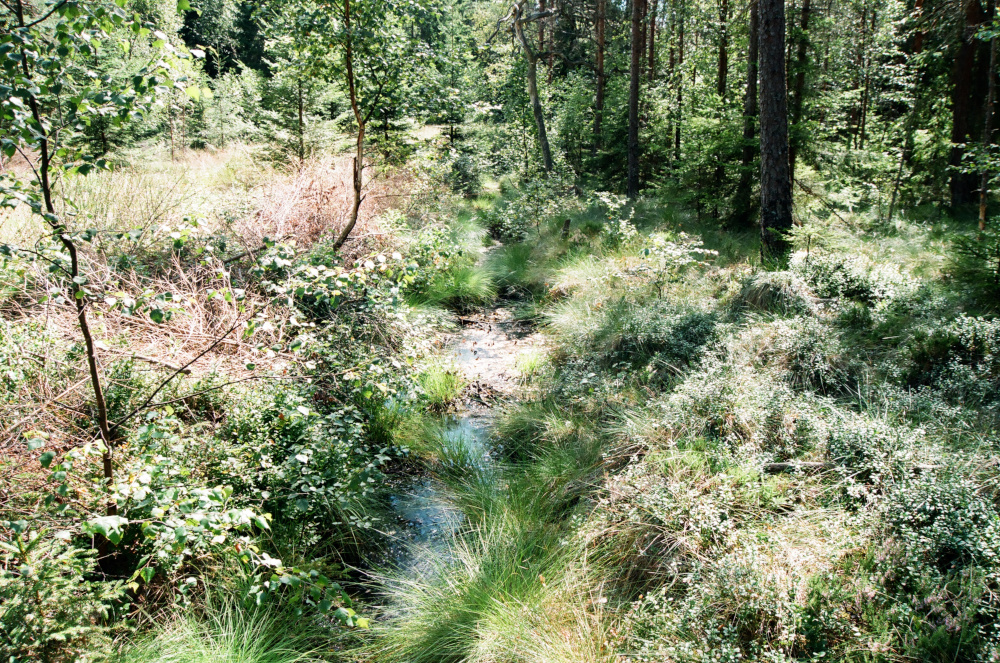 ---
---
Sweden and Bengtsbo.



Quite freely translated this
means House of Bengt - whoever that was.


Our kind hosts, Dagny and Karl Erik Andersson
have purchased the former hunting lodge
years ago and transformed it into a guest house.
The rooms are cosy.
If it is wet and windy outside, a fire is lit in the fireplace. It's getting quiet - one is reading, another one is sleeping ...

... and the fire is cackling quietly.
The wood is harvested by Karl-Erik and then split.
It is stored dry in the barn.
Hard work that pays.


There are jobs which one can enjoy.
Once a
week,
the lawn
is mown.
This is
pure
self-defense.
Those who
don't
do it
will
lose
the
ground
to the
forest.
---
---
Sweden and its houses.

Wooden houses have a long tradition in Sweden.
Often they are typically red,
but always they are beautifully colored.


| | |
| --- | --- |
| | Swedish houses often have white edges. |
---
---
| | |
| --- | --- |
| Sweden and its horses. | |
---
---
Sweden and Lake Bolmen.
The big lake near Bengtsbo is Lake Bolmen. It has 365 isles. It's a huge water body.

Each isle has its name. There is the Gull Isle, the tiny Lice Isle, the Calf Isle, the House Hump etc.
365 different names. We don't know whether there is anybody who knows all the names of all the isles in Lake Bolmen.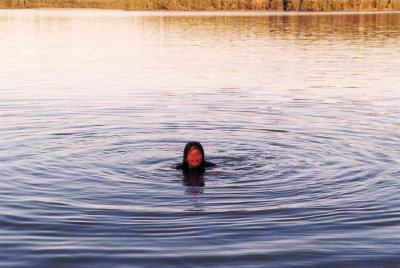 Clean water invites to have a bath.


---
---
Sweden and its wildlife.
Elks

are everywhere and nowhere. All of Småland is full of elks. However, they don't think much of human company. But sometimes they are just standing around without being bothered.
Elks are as big as horses. The elk is the biggest animal I've seen in the wild up to now. And it hardly makes any noise while walking.

We often run into

deer and roe

in Sweden. They are taking flight almost immediately. Two or three leaps and they disappeare between the trees.

The

cunning fox

we've seen only once. In the evening, only a glimps, from a raised hide.



Hares

also seem to be rare. One evening, one of them sat in the middle of the way. Verrry big. Rabbits, however, are very frequent. We suppose that a brown one is living under the house.



Midges.

They are big and they bite. AUTAN from the drugstore works well against this pest. Some midges are threateningly big and there's really not much good to say about them ...

It is good to wear boots when walking in the wood.

Adders

are quite small snakes, but unfortunately, their bite is poisonous. During the day they often have a sunbath on the forest track. Sometimes we noticed it only in the last moment and jumped to the side, so that we didn't step on it.
It looks kind of funny how the startled snake makes it's withdrawel into the shrubberies with its mouth open wide and hissing loudly (sounds like an old owl suffering from asthma).
The black pattern on her back is to be seen very nicely. One shouldn't disturb the small creatures. They are more afraid of us than we are of them. By the way, nobody has ever died who visited a doctor after the bite of an adder.

No forest track without

red ants.

Their buldings, the ant-hills, are sometimes as high as a man and it is not very wise to keep standing in front of it for a long time. In Sweden, the ants in the woods are bigger than elsewhere and they defend themselves against intruders with effective means.

If you think that you have ever seen really big

dragonflies

- go to Lake Bolmen. Helicopter-like creatures are whirring noisily across the water. They come also to the meadow in front of the house and have been seen in the middle of the forest.






Hunting:


In October, the hunting fever is breaking out. On each high seat, there is a countless number of them, men (never women) are sitting with shotguns trying to shoot an elk.
On the Andersson's land (1.000.000 square meters - just Swedish dimensions) three elks per year are allowed to be shot. There is no limit for the number of deer that may be shot.
During this time of the year, there is kind of a "state of emergency" in Sweden.
The only priority: the hunt.



Taking photographs:


In fact, one should always have a camera ready for use.
One time, when we came back from fishing, a male elk stood right beside the way staring at us. In a short distance behind it stood an elk cow. Then we became uninteresting, the elk continued grazing.
When I was mushrooming I nearly stepped on an adder that had been sunbathing on the path. Scared up it backed out into the shrubbery, bitching and hissing excitedly with its mouth open wide.
On a foundling beside the street there sat a big osprey when we drove by. A lordly bird.
It goes without saying - we never had our camera with us.


---
---
Sweden and fun.
For children, the

Astrid Lindgren World

is a big success. The whole world knows the adventures of Emil from Lönneberga and Pippi Longstocking, who lifts her horse with one hand.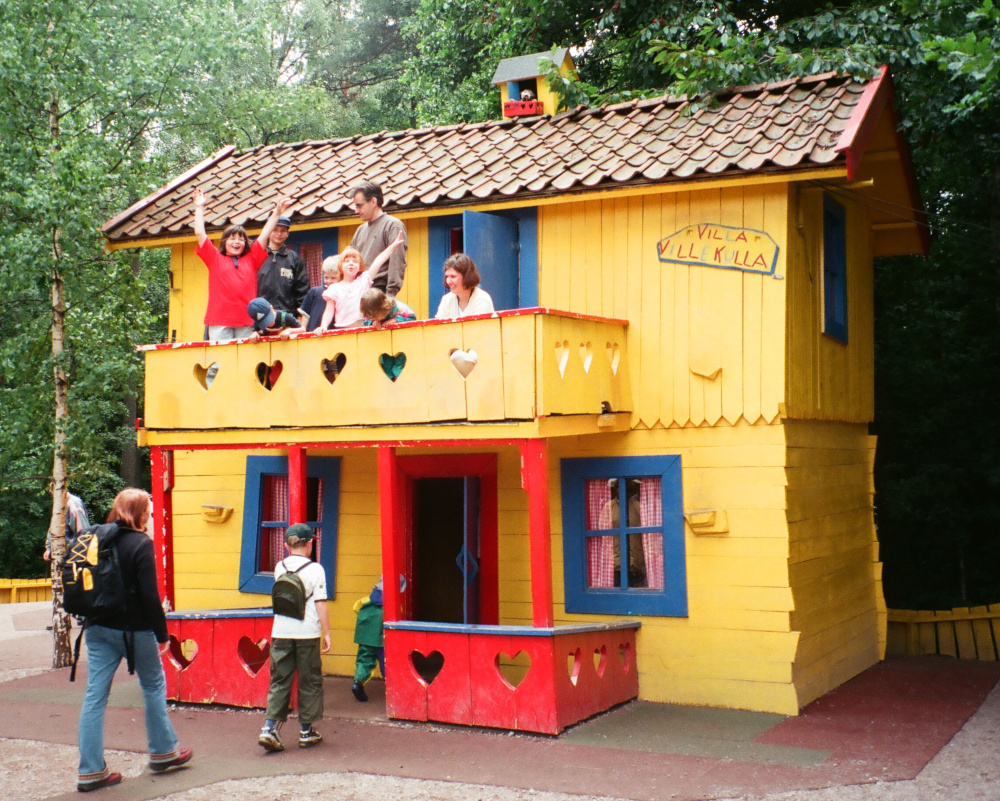 I am sooo big!
We've had a look
into Emil's shack.
There you can still see
the wooden figures
he has made.

One for every bad deed.




Some houses are gigantic.
This is how the living room
looks from the perspective
of a mouse.
A little crazy is

High Chaparral.

Out of millions of old telegraph poles an enterprising Swedish business man has build a copy of the Wild West.



You should allow for a whole day for a visit here. There are shows several times a day, with very simple stories and really good stunts.
A group of Indians show their dances in the Indian village, you can rob a bank if you want. It's real fun for children.




---
---
Sweden and the Anderssons.
From Germany you reach the Anderssons either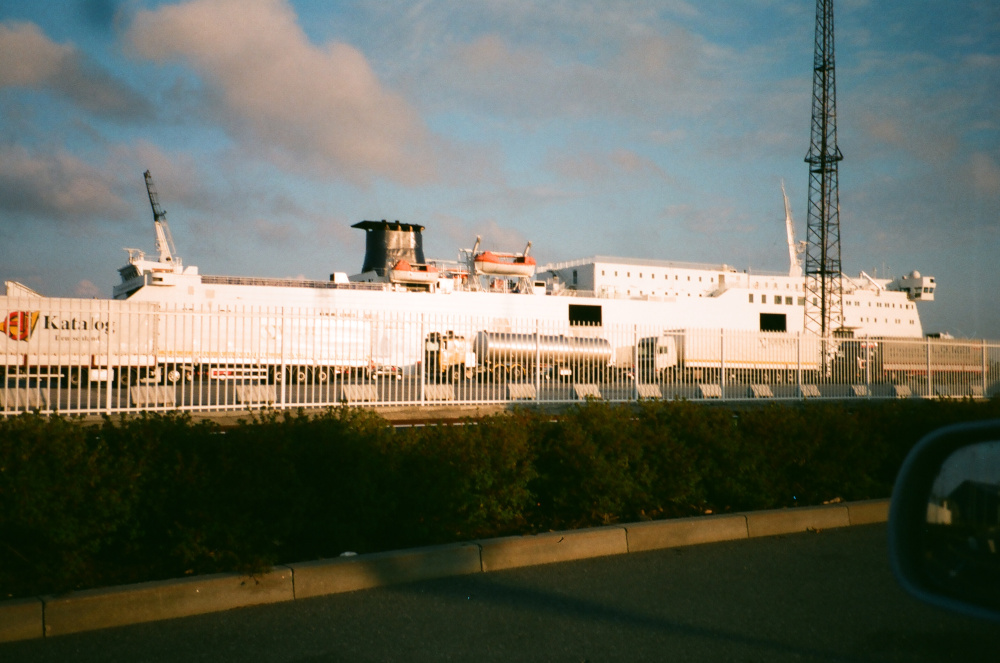 by ferry or you can use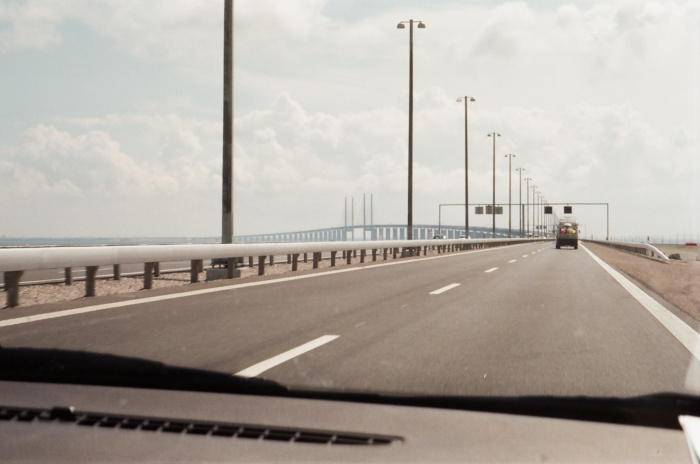 the newly built bridges and go by car via Flensburg to Kopenhagen in Denmark and from there to Malmö in Sweden, a short way you will go even underneath the sea. In either case we needed 12 to 15 hours till Bengtsbo, the numerous stops along the way included.

Travelling to Sweden is very easy. Generally, there are no checks at the border crossings and if so, you need only your identity card. We have payed with our EC card everywhere. Fuel you get at self-service petrol stations, using the EC card here too.
The roads are in a very good shape. Traffic is becoming less and less while you go north until eventually you are completely alone. So you better have you car checked thoroughly bevor starting your trip.
And should something happen anyway, the Swedish people are incredibly helpful.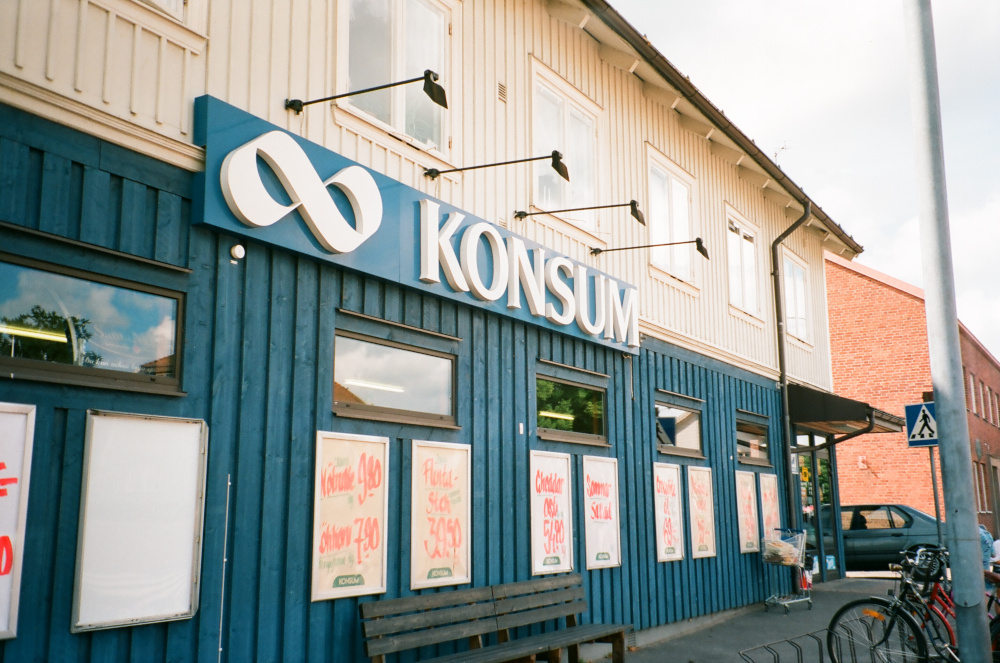 In "Konsum" grocery prices are comparable to those in Germany.
Even if you don't know Swedish
you will get along well.
The packagings are very informative.
Nevertheless, a little English
could be helpful.





---
---

Well, this should be enough for a first impression. I hope, I did arouse your curiosity for the land of the elks.
As usual I am open for suggestions and constructive advice for this site.


We thank our hosts and friends, Dagny and Karl-Erik Andersson for their hospitality and recommend them to all who want to feel at home in this big, beautiful land.

I am sure, we'll go back to Bengtsbo one time.